Company Profile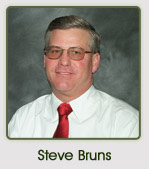 Steve Bruns has over 45 years of experience in property development and the construction industry. As a second generation owner/operator of Bruns General Contracting headquartered in Tipp City, Ohio, Bruns has served as President since 1996. Bruns co-founded the Tipp City operation in 1981 and has grown the company from three employees to one of Dayton Business Journal's Top 100 Businesses in the Miami Valley.
Bruns is a prior Entrepreneur of the Year award winner by The Dayton/Miami Valley Ernst & Young chapter for his leadership in strengthening the community by driving growth and innovation. Bruns is a current board member of the Troy Development council and remains an active member of the Tipp City, Troy, and Dayton Area Chambers of Commerce.
In 2008, Bruns founded Bruns Realty Group. In little more than a decade Bruns Realty Group has flourished from one real estate agent to fifteen real estate agents, making Bruns Realty Group a premier leader in the real estate industry.